This is a follow up to our intoduction to Warchest building. On more expensive sex toys we often issue the warning that you should be covering your bases before indulging unless you're absolutely sure. A reader engaged us and asked what covering the bases looked like. Sure enough I went back and read that old post and while it talked a lot about the things you 'could' get we never went as far as making specific recommendations. So without further ado, here are our warchest basics. Some of these items are available through our affiliate link at Peepshow Toys. If you like this content and want to support us, using that link is very helpful.
Lube
Nothing puts a damper on fun time like dryness. Whether that's parts that should be lubing that aren't, or parts that can't lube themselves, nothing says party pooper like too much friction. We recommend having at least a water based lubricant handy for a few reasons: they won't damage your body safe toys, the good ones come in all natural body safe formulas, they work with your bodies natural lubrication, and they are easy to clean. I've reviewed one of our favorites in the past, but we have three go-to water based lubes.
The first on the list is Sliquid Naturals H2O. We've been using his lubricant for years and it is excellent. We'll go into more details when it gets a proper stand alone review later, but the basics are it's a medium thickness all natural water based lubricant that is Glycerin and Paraben free.
Next up is System Jo Agape. Yeah yeah, we snickered at the name too. Just like the Sliquid, System Jo Agape is free of harsh chemicals. Agape goes one step further on the marketing however and claims to be perfectly pH balanced for especially sensitive vaginas. So if you have had issues with sensitivity to lubricant before you may wanna stop here first. For our use, it's a bit thinner than the H2O and whether or not that's a good or bad thing is up to you. We use both regularly.
Our next favorite water based lube, and the one that gets the most use out of us by far is Bad Dragon's Cum Lube which we did a full review on here. TL;DR, this ultra thick lubricant is a go-to when having back-door fun with toys that can't be used with silicone lubricants. It's got excellent staying power but can be hard to work with.
If you're into anal play that doesn't involve silicone toys (glass, metal, fingers, dick) we also highly recommend getting a silicone based lubricant. There are some drawbacks related to the strengths. Silicone based lube really goes the distance in anal applications as it won't be absorbed by the body, and it stays put, but that strength also makes it difficult to clean. It's a trade-off we feel is worth it to avoid the hassles of re-lubing. We've had that happen just as an orgasm was building and Emily lost her hard earned build up as a result. Don't let that happen to you! Our go-to for silicone lube is currently Gun Oil.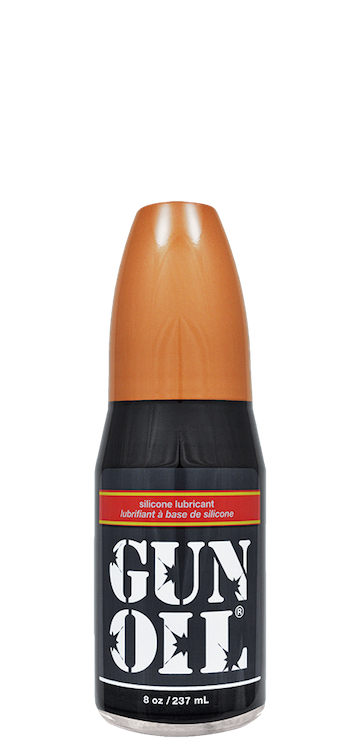 Clitoris Time
The next base we need to cover is external stimulation with the clitoris in mind. Unlike lubricant, which is widely needed regardless of situation, this is one of those things you have to judge based on need. Do your hands got you fam? What about your partner? If availability and effectiveness are satisfactory you can skip this and cover gaps in the warchest that would do more good. But if you're looking for something more out of your clitoral experience we have a few products we highly recommend.
The Shibari Mini Halo offers broad area coverage and decent power in a compact cordless format. We haven't done an in depth review of the Mini Halo yet but we've owned it for quite a while and it is due. Spoilers, we like it. You can pick one up at the affiliate link above.
Also available from Peepshow is the Satisfyer Pro Penguin, an absolutely adorable entry in the air pulsation category of vibrators. These vibrators offer targeted intensity that's a little much for some people, but we find immensely pleasurable. Its less cutely shaped but otherwise identical cousin, the Satisfyer Pro 2, can sometimes be had for less depending on the sales going so check that out as well.
Pentration
Toys that you stick into things are the bulk of what we review here but it needs to be said that this is only one piece of the warchest puzzle. Some women just don't respond much to penetration and others, like Emily, basically can't get off satisfactorily without feeling a bit stretched. Here are two basics to help you cover this base, but there are many more out there.
Recently reviewed, the Vivo by Uberrime is a great way to start on a body safe penetration journey. It safely covers G-spot and P-spot play and comes in at an affordable price for 100% body-safe platinum cured silicone.
If you're a little more adventurous with designs, the illithid by PleasureForge is also a very affordable way to get into body safe penetration play with a large degree of texture, and PleasureForge does some amazing pours.
Advancing
Those three areas will largely cover your basics. Once those are settled I recommend getting into mood setters, like music, candles, incense, lighting, soundscapes, or whatever it is you can think of to create atmosphere. We've also covered several advanced penetrative toys at higher price points, so check our post history. Once you have these basics covered you can start drilling down into getting specific features for specific needs. If your spouse travels a lot your needs are going to be different than if you see them every night. It's just the way it is. Build your warchest to suit you.